Integrity in Action.
Supporting social and environmental impact leaders and teams to embody their values consistently,
from strategy and productivity to everyday interactions.
One-on-One Coaching
Maximize your personal and professional potential. Guided by your internal wisdom, develop the skills and tools which will generate success by your standards. A thought-partner to support you in cultivating the internal and external resources needed to achieve your goals and dreams.

Teams and Organizations
Maximize team efficiency and impact through:
Integrity-Centered Strategy

Purposed-Driven Productivity

Diversity, Equity and Inclusion

Organizational Culture

Mindfulness and Workplace Wellness
Music, Activism and Community
Creating a soundtrack for the resilience. Music to inspire insight, joy and action for the soulful change-maker. I am also the director of a non-profit organization which provides personal and professional development for community leaders, artists and entrepreneurs called Holistic Underground.

One-on-One Coaching
You envision a grounded, balanced and thriving life. One that allows you to share your special something with the world...
But there are some patterns, stories and stopping points that keep getting in the way, and they're starting to get familiar...
Coaching with me means getting clear on who you are, what matters to you most, and the purpose you want to fulfill in life. It also means remembering to enjoy the ride, and celebrate the successes!

This work will develop your resilience in the face of adversity and limiting beliefs, and increase your capacity to take consistent, authentic actions towards achieving your goals. This includes powerful tools to catalyze break-throughs in your focus, productivity, and self-awareness.

Determining a fit
I offer anyone who is interested in coaching with me free discovery call, to clarify what success means to you, and see if my support can guarantee those results.

Generally, my clients value personal-growth, creativity, equity, and social impact. Many of them are leaders, executives, community organizers, creatives and entrepreneurs. All of them envision an extraordinary life for themselves, and a better world for everyone.
Some useful distinctions:
Therapy is about healing the past; coaching is about action in the present and future.

Consulting prescribes expertise-based solutions; coaching puts your own wisdom into action.

Mentoring guides you based on a mentor's wisdom; coaching guides you according to your own values and intentions.

Training follows a set curriculum toward set objectives; coaching reveals your own objectives and a path to fulfill them.
I am rigorously trained through the Academy for Coaching Excellence (ACE), an Accredited Coach Training Program through the International Coaching Federation (ICF), PCC Certification in process.
Pricing
I base my 2-session-per-month retainer fee on the following:
What will reflect the value you'll receive?

What will give you more than your money's worth?

What will honor a variety of situations? and

What will allow this work grow?
With that in mind, I ask that you pay on the sliding scale at a level that is a stretch but not a burden for you:
$200/month if it's a stretch to be investing in this.

$260/month if you see you're living comfortably.

$320/month if you're flourishing financially.
This includes unlimited text and email support. Inquire with me about prices and perks for Executive Coaching - specialized coaching services for executives, entrepreneurs and leaders.
Bio
Experiencing the deep sense of purpose, existential meaning, and recurring burnout of being an artist, teacher and activist, my desire to be as grounded and balanced as my incredible mentors lead me to explore holistic wellness and personal development for a sense of wholeness and integration.

Seeing how art, social-justice and holistic health completed each other, I co-founded Holistic Underground, a community organization providing personal and professional development to leaders, creatives and change-agents. We gather and share tools, training and resources through the Allied Leadership Training for Embodied Resilience, and Organizational Development workshops and retreats, improving communication, self-care and interpersonal-allyship in organizations and teams.
I grew up between 3 continents and cultures. Getting on a plane to Sudan, California or Dubai to move or visit family usually came with a change in my race, class and connotations of gender and so much more. Questioning my identity began early, and it lead me to become a musician, a community organizer, a healer, a teacher, the list goes on... I've always answered "who am I?" through what I do as much as where I'm from.
When I was 15 years old, my mother drove herself to the hospital for a check up. 6 months later, she died due to medical malpractice. During this 6 months, my mother, a poet, speaker, activist and my best friend, could hardly write, and couldn't speak due to a breathing tube. But somehow, her hospital room was full with a sense of beauty... The doctors and nurses would always linger in there...

With her eyes, she would see me for who I truly was. She showered me with "you can achieve all of your dreams, you are whole and complete, you have all your own answers." And she did the same for everyone who entered that room.

This is how I discovered empowerment. This is why I am a coach. This was where I learned beyond doubt that your deepest challenges and greatest blessings can be one and the same.
My commitment is to provide support and empowerment to the leaders and change-agents around me. If this interests you, let's talk!
Further Education and Experience
B.A. International Relations
San Francisco State University
Focus on Social-Movements Theory and Constructivism
Certificate in Holistic Health
San Francisco State University
Stress-reduction, Mindfulness, Nutrition and Embodiment
Communication Trainer
Holistic Underground
2014 to Present
Qi Qong & TCM
Student of Sifu Bryant Fong
2014 to Present
Event Host and MC
Workshop Facilitator
Fluent in English and Arabic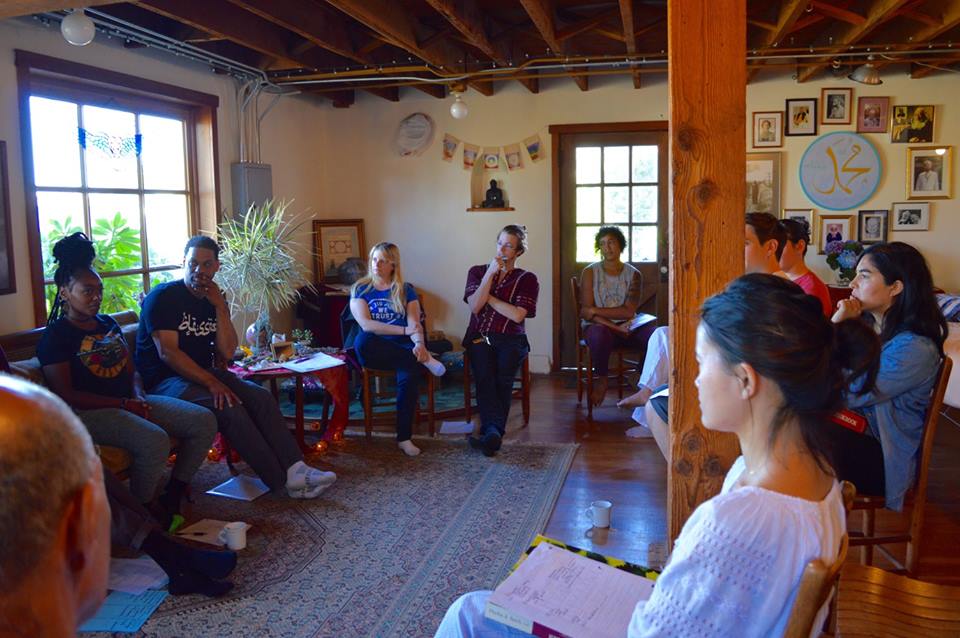 Integrity-Centered Strategy
Shared Strategic Clarity - Develop certainty amongst your team through clarifying values, roles, priorities and the rules of engagement. Take action as a cohesive unite, united in your purpose.

- Strategic Planning Retreats
- Leadership & the Art of Enrollment
- Lean and Agile Development
Purpose-Driven Productivity
Develop laser-focus amongst team members, such that distractions become less interesting. Skill development and powerful tools which bring out the full potential of your team.
- Team Dynamics and Effective Communication
- Increase Clarity, Focus, and Resilience
- Applied Mindfulness, Wellness and Ergonomics
Diversity, Equity and Inclusion
Cultivate an environment where all backgrounds, skillsets and perspectives thrive. Master the art of empowerment, so that in your presence, people experience their full potential. Develop powerful allyship skills which transform differences from obstacles into opportunities.
- Diversity, Equity and Inclusion Training
- Allyship and Empowerment Skills
- Unconscious Bias Training
Clarify the standards of integrity and support systems your team operates with. Discover each teammates unique empowerment profile. Develop empowering norms and break disempowering behavior patterns.
- Organizational Change Management
- Conflict Management and Transformation
- Team Builders and The Art of Acknowledgement